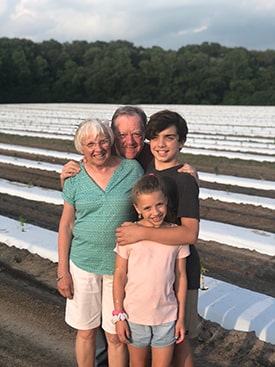 The land that would eventually become Baywater Farms was cleared by hand in 1860 by Ephraim Holloway. The Baywater name comes from being located on the Eastern Shore of Maryland near the Chesapeake Bay. Not only has the land passed down through six generations of this industrious family; but also, the passion, care, and responsible farming techniques have as well.
Baywater Farms is excited to expand their farming operations to include hemp in their portfolio. With over 3,000 acres farmed currently for heirloom & hydroponic produce, sod, grain and now hemp; everything starts with the seed.
You can still see the original farmhouse built on the land, which is now used as office space for the farming operation. You can still talk with the family when you call or visit and see the family actively tilling the same land their ancestors did. Just like their family before them; they believe in the connection of community, consumers and business partners.
You will understand why they pride themselves on the richness of the soil, and the roots of their ancestry – all of which can be felt in the care and quality of the crops. From seed to bottle, the core team stays involved every step of the way.